Neodymium Ring Magnet - 14mm (OD) x 7mm (ID) x 5mm (H)
Product code: 23009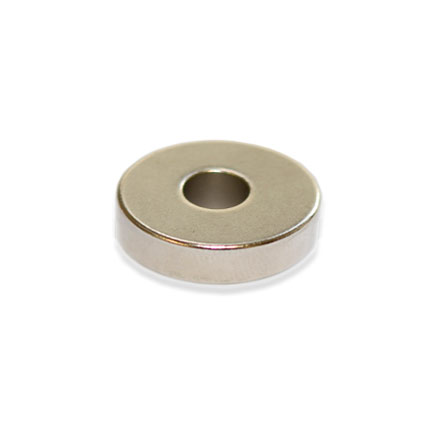 $6.28
buy 10 to 99 items
and
save 11%
$5.12
buy 100+ items
and
save 27%
Australia's Leading Supplier
Neodymium Ring Magnet - 14mm (OD) x 7mm (ID) x 5mm (H)
Style
Rare Earth Ring magnet
Direction of Magnetisation
Axially magnetised thru the 5mm
Dimensions
Outside Diameter:14m, Inside Diameter:7mm, Thickness:5mm
*Measured against up to 10mm mild steel.
Magnetic Product Description:
This rare earth ring magnet has an outside diameter of 14mm, an inside diameter of 7mm and a thickness of 5mm. It has a pull force of 3.5 kg. It is identified by the AMF magnet part number 23009.
Uses for our rare earth ring magnets:
Designers of specialist industrial equipment of gauges, temperature sensors and flow metres in extreme heat conditions need a steady hand, a sharp eye and a cool head. They also need neodymium ring magnets, 14mmx7mmx5mm. Embedded in their gauges and metres, ring magnets provide the accuracy, durability and ability to operate at high temperatures that industrial designers require.
These measurement devices always find homes in metal smelting foundries, aerospace and power generation sectors. Taking the temperature in these situations requires high-performance equipment for tasks critical to the safe operation of the plant. Mistakes regarding structures operating at extreme temperatures can be catastrophic.
Ring magnets housed in these meters and gauges regulate or control the movement of moving parts necessary to give accurate readings of temperature and flow rates of grain, liquid or powder. Magnets sensitivity to different types of materials within their push or pull force field, allow designers to assemble devices within acceptable tolerances and install fail-safe circuit breaking protocols to protect the plant or produce. At a known force, the magnets will disengage. The gauge then will read zero rather give a false temperature reading. For complex or intuitive holding and release functions, magnets are without peer.
The nuanced and communicative role magnets play in these sensitive and risk-averse tasks, measuring flows and extreme temperatures in heavy industrial plant and equipment endear them to workers in high pressure, high temperature and high stakes environments everywhere.
Ring magnets are used extensively in heavy industry where steel works proliferate, such as railways, solar energy assemblies and grain handling facilities.
I recommend this product
NB: Ranges are indicative for product category, please check individual products for specic values within that range.
The most common coating for Neodymium magnets is Nickel + Copper + Nickel (Ni + Cu + Ni). This coating offers the magnet relatively good protection from corrosion and passive applications. If the magnet will be exposed to moisture or liquid then consider the use of an organic coating such as Epoxy. A hard wearing coating, Epoxy is suited to applications where the magnet will come under some friction or knocking.
Magnets are readily available in Blocks, Discs, Cylinders & Rings. AMF Magnetics specializes in the supply of short-run prototype magnets including Arc Segments, various magnetic orientations etc. If you need a magnet size that we don't carry in stock, submit a Design-a-Magnet enquiry for a quote on your custom magnet design.
Neodymium magnets are offered in several different grades. The first section N30-54 has an operating temperature of up to 80 degrees. Most of our stock only goes up to N38. The second section, denoted with the "M" prefix after the grade has an operating temperature 100 degrees. After this the grades are "H", "SH", "UH" & "EH". In order for the magnet to withstand a higher operating temperature, during production more of the raw material PrNd is incorporated as these elements have a naturally occurring resistance to high temperatures.