Ferrite Disc Magnet - 15mm x 4mm
Product code: 10090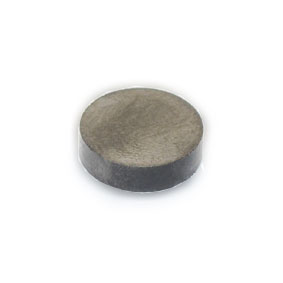 $0.59
buy 1000 to 9999 items
and
save 21%
$0.44
buy 10000+ items
and
save 41%
Australia's Leading Supplier
Ferrite Disc Magnet - 15mm x 4mm
Style
Ferrite disc magnet
Direction of Magnetisation
Axially magnetised thru the 4mm
Dimensions
Thickness:4mm, Diameter:15mm
*Measured against up to 10mm mild steel.
Magnetic Product Description:
This ferrite disc magnet has a diameter of 15mm and a thickness of 4mm. It has a magnetic flux reading of 1137 Gauss and a pull force of 340 grams. It is identified by the AMF magnet part number 10090.
Uses for our ferrite disc magnets:
Our ferrite disc magnets come in a variety of sizes, as such they are to be found across a broad range of  applications including  crafts, souvenirs, fridge magnets & whiteboard magnets.
NB: Ranges are indicative for product category, please check individual products for specific values within that range.