Neodymium Ring Magnet - 20mm (OD) x 10mm (ID) x 8mm (H)
Product code: 23007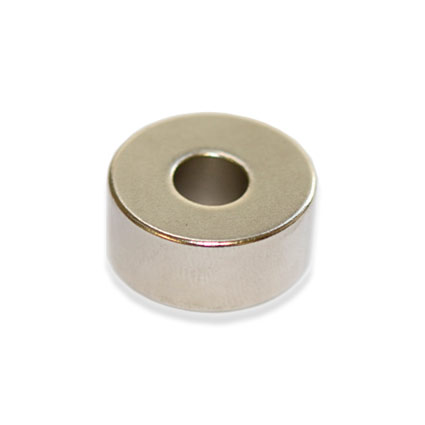 $12.27
buy 10 to 99 items
and
save 10%
$7.99
buy 100+ items
and
save 41%
Australia's Leading Supplier
Neodymium Ring Magnet - 20mm (OD) x 10mm (ID) x 8mm (H)
Style
Rare Earth Ring magnet
Direction of Magnetisation
Axially magnetised thru the 8mm
Dimensions
Outside Diameter:20mm, Inside Diameter:10mm, Thickness:8mm
*Measured against up to 10mm mild steel.
Magnetic Product Description:
This rare earth ring magnet has an outside diameter of 20mm, an inside diameter of 10mm and a thickness of 8mm. It has a pull force of 7.8 kg. It is identified by the AMF magnet part number 23007.
Uses for our rare earth ring magnets:
The defence department of Australia operates one of the largest research and development units in the country. Using plenty of 20mmx8mm neodymium ring magnets, one of defence departments R and D tasks is to develop equipment to help effect repairs when necessary to defence hardware. This hardware includes battleships, armoured tanks and fighter jet aircraft. Some of these running repairs may need to be performed in the conflict zone, a long way from well-equipped mechanical workshops.
Many tools used for these purposes use ring magnets to regulate the moving parts inside tools and machines. Magnets allow mechanical parts to move at predetermined intervals within acceptable tolerances, by projecting magnetic power instead of locking onto another component.
These ring magnets are sometimes used to attach the maintenance equipment to the defence asset itself. Ring magnets can be used to clamp the devise to the structure, like a ship's hull or a jet engine, providing a secure hold for the precise positioning of kit like drills or hoses.
This holding or clamping action is a fast and effective method where many other clamping methods may be impracticable. The magnets not only allow for a quick and simple and secure engagement, but a quick release. If desired, in an emergency, kit can release at a pre-determined pull force. That is, magnetic grab can quit the hold if the equipment jams.
The magnetic grab, above a force determined by the pull force of a specific magnet, can be designed to effect a slip or shuffle characteristic, quite unlike other fastening methods, allowing force to be dispersed in an emerging operation failure. This slow release above the pull force of the magnet can provide an early warning of building pressure and reduce the brute force from acting directly on the structure or the equipment. For maintaining defence's assets sometimes in conflict zones, all equipment must be as simple, as effective and as versatile as possible. Magnets, including ring magnets, answer the call.
These powerful neodymium ring magnets are in constant demand, most often in the mining, transport and grain processing sectors.
NB: Ranges are indicative for product category, please check individual products for specic values within that range.
The most common coating for Neodymium magnets is Nickel + Copper + Nickel (Ni + Cu + Ni). This coating offers the magnet relatively good protection from corrosion and passive applications. If the magnet will be exposed to moisture or liquid then consider the use of an organic coating such as Epoxy. A hard wearing coating, Epoxy is suited to applications where the magnet will come under some friction or knocking.
Magnets are readily available in Blocks, Discs, Cylinders & Rings. AMF Magnetics specializes in the supply of short-run prototype magnets including Arc Segments, various magnetic orientations etc. If you need a magnet size that we don't carry in stock, submit a Design-a-Magnet enquiry for a quote on your custom magnet design.
Neodymium magnets are offered in several different grades. The first section N30-54 has an operating temperature of up to 80 degrees. Most of our stock only goes up to N38. The second section, denoted with the "M" prefix after the grade has an operating temperature 100 degrees. After this the grades are "H", "SH", "UH" & "EH". In order for the magnet to withstand a higher operating temperature, during production more of the raw material PrNd is incorporated as these elements have a naturally occurring resistance to high temperatures.