Grey Pin Whiteboard Magnets - 12mm diameter x 22mm | 12 PACK
Product code: 60210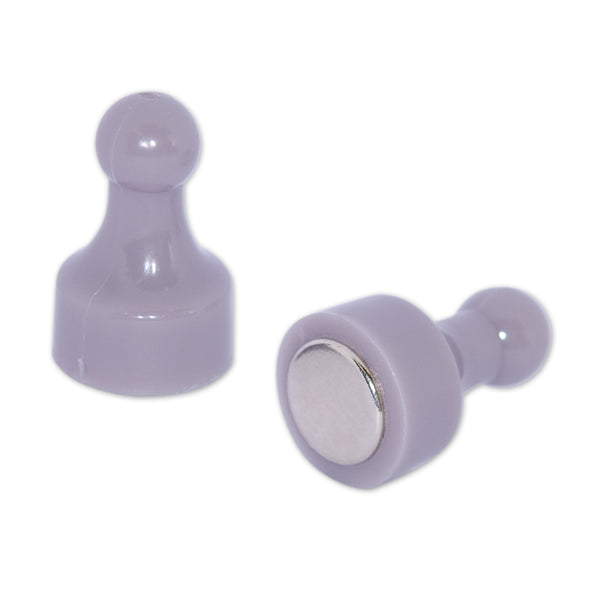 $14.17
buy 10 to 99 items
and
save 18%
$12.88
buy 100+ items
and
save 26%
Australia's Leading Supplier
Grey Pin Whiteboard Magnets - 12mm diameter x 22mm | 12 PACK
Dimensions
Height:22mm, Diameter:12mm
Memo Magnets Product Description:
Our strong memo magnets, also called pawn magnets due to their shape, are made with a Rare Earth Neodymium magnet inserted into their plastic substrate. These whiteboard magnets come in a variety of colours such as Grey, Yellow, Blue, Red, Green, Black, White, Purple, and Orange. They are very strong for their size and can hold approximately 10 sheets of A4 pieces of paper to a magnetic whiteboard or any metallic surface. These grey pin magnets come in a pack of 12 are and identified by AMF Part Number 60210. Please note: this product may not be compatible with Glass Whiteboards, for more information click here.
Uses for our Memo Pin Magnets:
Pin magnets are very useful little tools for organising and suspending the documents that float through our lives like tokens released into a stream by playful children. Some of these documents need to stop and linger until they receive the attention they need before they go on their way.
Pinning items like recipes torn from a magazine on a range hood, postcards from afar on the side of a microwave oven or refrigerator, accounts payable on filing cabinets, assembly instructions in the shed, active paperwork on job boards at work, white pin magnets are always ready for action.
Sometimes called pawn magnets, and subservient to a fault, these fastening agents are deployed in the thick of the action at home or work, usually pinning down the most current of documents and mementos.
Entertainment tickets and flyers are secured with an expectant flourish thanks to magnetic grab. Favourite takeaway menus are carefully secured in each corner with loving care. Traffic infringement notices and accounts payable are given the cold shoulder treatment with a no look pin slap anywhere on the document.
Pin magnets are ambush predators. They lie in wait on magnetic surfaces, ready to pounce and secure the most pressing of quarry for attention and action. Plotting your next move is more considered with these white pin magnets on your side. Think of them as your silent partners, helping to suspend and then release important documents as they pass and pause along the currents, snags and eddies in the stream of life.
These Rare Earth memo magnets are great for using on your fridge or holding papers on a whiteboard at your office, warehouse or home.
To learn more about how to use this product, watch the latest video on our Youtube Channel