Samarium Cobalt Disc Magnet (SmCo) - 8mm x 5mm
Product code: 39031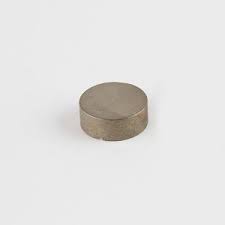 $7.03
buy 10 to 99 items
and
save 15%
$5.84
buy 100+ items
and
save 29%
Australia's Leading Supplier
Samarium Cobalt Disc Magnet (SmCo) - 8mm x 5mm
Dimensions
Diameter 8mm, Height 5mm
Max Working Operating Temperature
≤300ºC
*Measured against up to 10mm mild steel.
Magnetic Product Description:
This Samarium Cobalt (SmCo) magnet has a diameter of 8mm and a height of 5mm. It has a grade of S280 (Sm2Co17), and a max working operating temperature of ≤300ºC. It is identified by the AMF Magnetics part number 39031.
Uses for our Samarium Cobalt Disc Magnets:
This type of Samarium Cobalt magnet is used in the design and manufacturing of weather station equipment. Also valve monitoring equipment, precision and concept to design engineering. This SmCo magnet has a high temperature resistance of ≤300ºC.
NB: Ranges are indicative for product category, please check individual products for specic values within that range.